Conservation Programmes
Background
Following the agreement and approval from both EAZA and EUAC that collaborative breeding programmes should be developed for fish and aquatic invertebrates, a EUAC workshop was held at Chester Zoo in 1998 that led to the development of the mission, vision, and value statements for Fish and Aquatic Invertebrate Taxon Advisory Group (FAITAG). The special character and demographic nature of populations of fish and aquatic invertebrates resulted in the decision that such breeding programmes should be given a discrete identity. This led to the initiation of the idea of Aquatic Sustainability Programmes (ASPs). These results from the workshop discussions were drafted as a proposal to EAZA/EEP from EUAC and this document was circulated to all EUAC members for input and approval. The ideas were accepted in principle at the EAZA/EEP meeting at Berlin Tierpark, September 1998 and at the EUAC meeting at Barcelona Aquarium in October 1998. Many of the steps involved with the formal development and adoption of the proposed ASPs depend on the revisions in the membership and structure of EUAC. The next stage of the process was to identify the procedures involved with the development of ASPs within the FAITAG and how these relate to both EEPs and other aquatic programmes, such as the North American Freshwater and Marine Fish Taxon Advisory Groups (FFTAG and MFTAG). A second workshop was held at Chester Zoo in 1999 and third workshop at Antwerp Zoo, involving a group of European zoo and aquarium curators. This document summarises the process of the meetings and the protocols that were developed for discussion and approval by EAZA and EUAC members.
EUAC FAITAG Mission Statement
To establish co-ordinated sustainable species and support programmes as a means of increasing public awareness about fish, aquatic invertebrates and aquatic plants.
These programmes, as appropriate, will place an emphasis on the threatened species and their habitats and in conjunction with promoting positive initiatives within the natural environment.
At the moment applications are closed.
Reporting form on previous projects
EUAC Conservation Funding (20 years of EUAC conservation fund.
The infographic below shows over the past 20 years what projects the EUAC Conservation Fund has supported with support from the Supporting Members. Thank you to the EUAC Supporting Members for the ungoing support and to Oceanário de Lisboa for the hard work on creating the infographic.
A higher resolution version can be found here. We encourage you to share this further with interesting parties.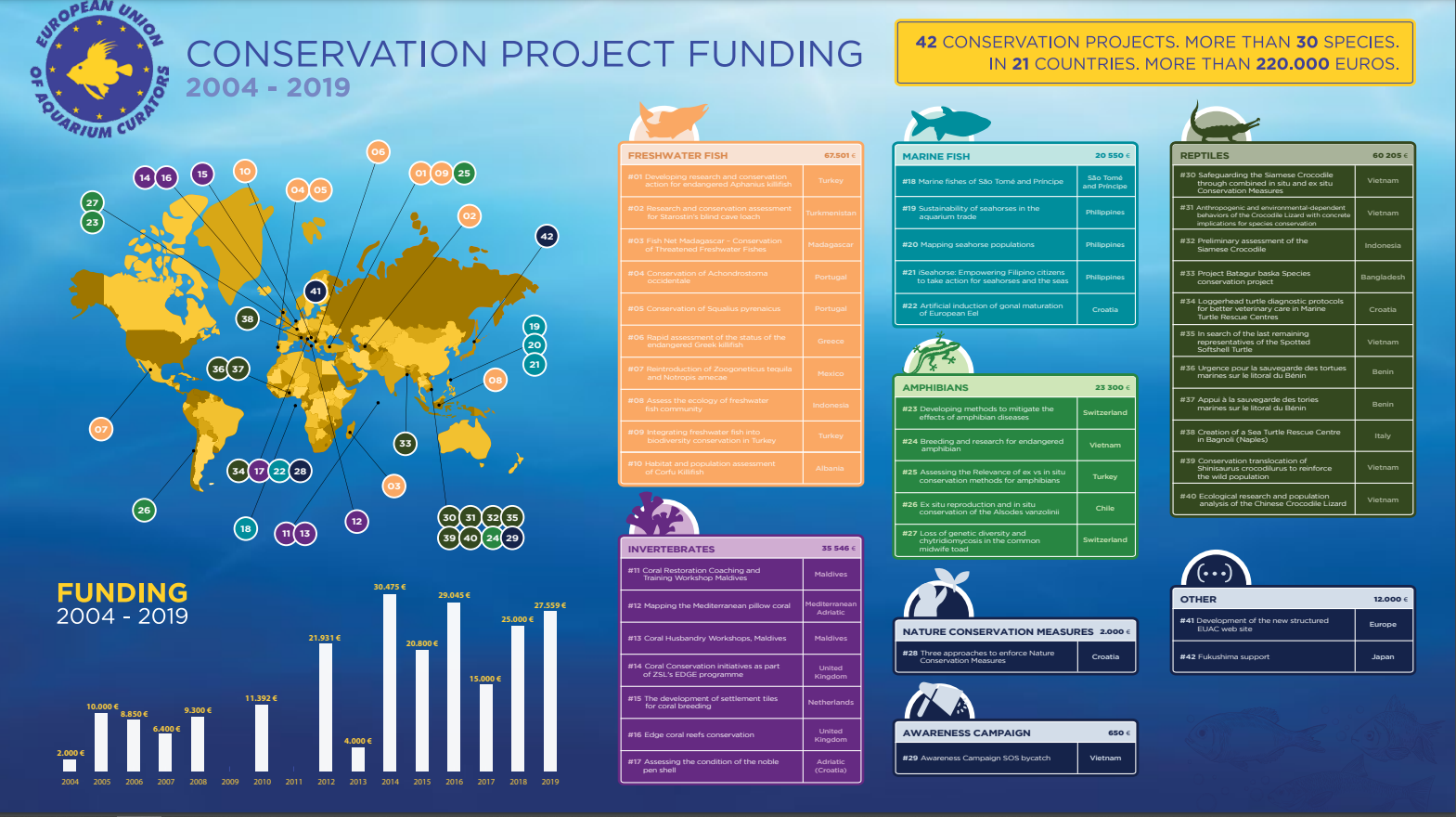 The reports from previous conserservation fund projects can be found here.
Information about the EAZA Biobank and the aquarium strategy can be found here.
Other conservation projects, not funded by EUAC, but linked to EUAC members can be found here.