Conservation Programmes
Background
Following the agreement and approval from both EAZA and EUAC that collaborative breeding programmes should be developed for fish and aquatic invertebrates, a EUAC workshop was held at Chester Zoo in 1998 that led to the development of the mission, vision, and value statements for Fish and Aquatic Invertebrate Taxon Advisory Group (FAITAG). The special character and demographic nature of populations of fish and aquatic invertebrates resulted in the decision that such breeding programmes should be given a discrete identity. This led to the initiation of the idea of Aquatic Sustainability Programmes (ASPs). These results from the workshop discussions were drafted as a proposal to EAZA/EEP from EUAC and this document was circulated to all EUAC members for input and approval. The ideas were accepted in principle at the EAZA/EEP meeting at Berlin Tierpark, September 1998 and at the EUAC meeting at Barcelona Aquarium in October 1998. Many of the steps involved with the formal development and adoption of the proposed ASPs depend on the revisions in the membership and structure of EUAC. The next stage of the process was to identify the procedures involved with the development of ASPs within the FAITAG and how these relate to both EEPs and other aquatic programmes, such as the North American Freshwater and Marine Fish Taxon Advisory Groups (FFTAG and MFTAG). A second workshop was held at Chester Zoo in 1999 and third workshop at Antwerp Zoo, involving a group of European zoo and aquarium curators. This document summarises the process of the meetings and the protocols that were developed for discussion and approval by EAZA and EUAC members.
EUAC FAITAG Mission Statement
To establish co-ordinated sustainable species and support programmes as a means of increasing public awareness about fish, aquatic invertebrates and aquatic plants.
These programmes, as appropriate, will place an emphasis on the threatened species and their habitats and in conjunction with promoting positive initiatives within the natural environment.
Please find the full information on how to apply for the Conservation programs funding 2021 here. (Please do login first)
Conservation programs funding application form 2021
Reporting form on sponsored projects
The reports from previous conservation programmes funded can be found below:
Rapid assessment of the status of Valencia letourneuxi, an endangered Greek killifish (2005 project) - Follow up presentation in 2009 can be found here.

Integrating freshwater fish into biodiversity conservation in Turkey (2010) - update (2020)
In search of the Red Girl in Madagascar (2015)
Safeguarding the Critically Endangered Siamese crocodile (Crocodylus siamensis) through combined in situ and ex situ conservation measures (2016)
Conservation of Achondrostoma occidentale: a freshwater fish endemic to the Western most tip of Europe (2017)
Fish Net – an update on four freshwater conservation projects (2017) - Fishnet have their own website where they regularly publish information.
EUAC_Batagur baska_Vienna Zoo final report 2018
Mapping the Mediterranean pillow coral (2018)
Turtle Survival Alliance: Tutle Survival 2018
Assessing the condition of the noble pen shell (Pinna nobilis Linnaeus, 1758) in the south Adriatic Sea (2019)
EUAC_Batagur baska_Vienna Zoo final report 2019
In search of the last remaining representatives of the only recently described and already Critically Endangered Spotted Softshell Turtle (Pelodiscus variegatus) in Vietnam (2019)
Softshell turtle conservation breeding succss in Vietnam.
2018 Contributions to Conservation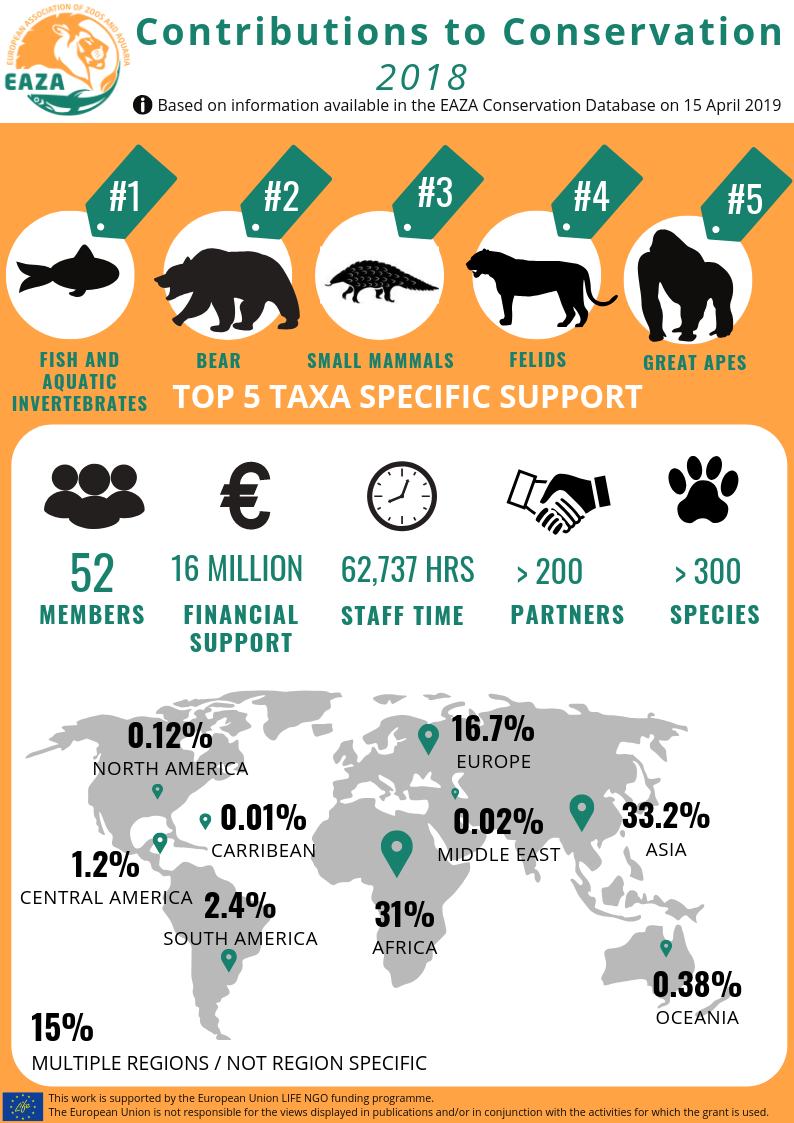 The information in the EAZA Conservation Database is provided by EAZA members and believed to be reliable. EAZA makes a diligent effort to provide a complete and accurate representation of the data in reports, publications, and services. For more details please consult the EAZA Annual Report 2018 at https://www.eaza.net/about-us/eazadocuments/. 29 EUAC Members are EAZA Members and helped provide the information above.
The EAZA Biobank preserves genetic samples for supporting population management and conservation research. To work towards the increased participation of aquariums in the EAZA Biobank initiative, and increased sample collection from aquatic species, we have developed a strategy and species-specific sampling protocol, in consultation with the European Union of Aquarium Curators and EAZA aquatic TAGs. For information please contact Ania Brown at ania.brown@eaza.net
The Biobank Aquarium Strategy 2021
The EAZA Biobank Aquatic Animal Sampling Protocol